To get involved in any of the ministries below contact the Campus Minister, Jeff:
EMAIL
***THE UNIVERSITY CATHOLIC COMMUNITY IS STUDENT RUN!***
Help out with our student-run Mass on Sundays by volunteering as a
Lector
Usher
Eucharistic Minister
Altar Server
Sacristan
Liturgical Ministry is what keeps our college- campus Catholic Mass running!
Join the Liturgical Ministry team.
"Singing is praying. When one sings one prays twice - so said the great Saint Augustine. While singing in the front of the Lord, we are in touch with the deepest center of our heart... Singing together is praying together - brothers and sisters in deep communion with each other in the overflowing love of God."
God blessed you with a voice- USE IT!
Practice is usually at 4:00 PM on Sundays during the Fall and Spring semester. If you cannot attend practice or Mass, do not hesitate! There are other events that music ministry is necessary!
Others would call them the "Executive board for the UCC," but we are truly disciples at heart wanting the best for the University Catholic Community and UTA Mavericks. We plan community service, social gatherings, and religious affiliated events. The Pastoral Council consists of:
President
Vice-President
Secretary
Mass Team
Public Relations Team
Activities Team
Diocesan Representative
Historian
Contact the Campus Minister, Jeff Hedgelen to sign up
EMAIL
.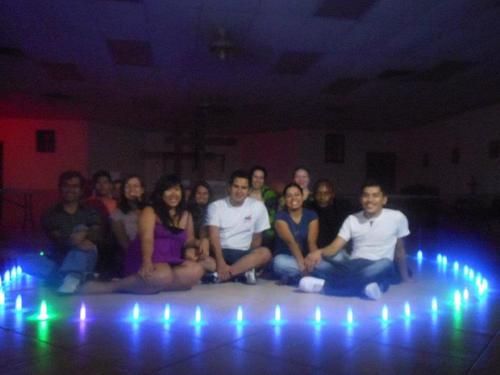 Would you like to get involved at the University Catholic Community!? I promise it is an experience that you will not regret. There are plenty of leadership positions at the University Catholic Community for Catholic Mavericks to step up and become more involved!

Remember when you were 10 and you became an altar server? Or when you got confirmed, you became a Eucharistic Minister? What about that one time you decided that becoming a lector would help encourage you to profess your faith to the large crowds? You wonder if you could still be as involved as you used to be at your home parish, and YOU CAN!
Liturgical Ministry is right for you.

Music is your passion! Do you take pride in your musical abilities? Maybe you play an instrument! Maybe when you were little, you wanted to be a professional singer! Maybe you're a music major! Whether you play the drums, piano, violin, guitar, sing high notes, sing low notes, sing professionally, or just sing for fun, we would love for you to get involved.
Music Ministry is right for you!

You want to do everything you're passionate about, and you made sure that your leadership shined through. You care sincerely about the UCC and what it stands for, so you'll be able to help us with just the right patience, determination, and Faith. You'll fit right in!
Patoral Council is right for you!